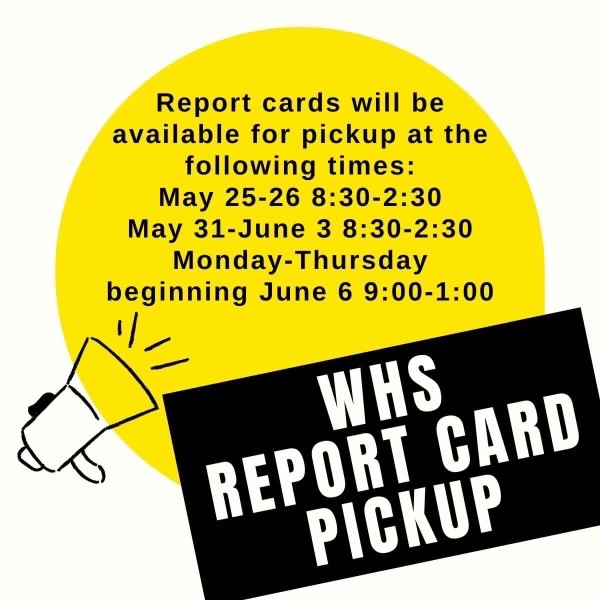 WHS Report Card Pick Up is as follows
May 25-26 & May 31-June 3 8:30am-2:00pm
Beginning June 6 Monday-Thursday 9:00am-1:00pm
Parent Instructions for Logging in to PowerSchool Parent Portal-
Account will be Setup by the School
Parents go to elmoreco.powerschool.com/public

Enter the username and password provided by the school office

You will be prompted to change your password when you log in for the first time

Passwords must be 12 characters: 1 uppercase letter, 1 lowercase letter, a number, and a symbol must be included

Password resets after this initial setup are completed by the parent using the link on the front page of the Parent Portal Site

Usernames and passwords will be distributed by the school during the week of 9.27.2021.
Wetumpka High School Google Classroom Codes 2021-2022
Information from the Alabama Department of Public Health about Covid-19
IMPORTANT INFORMATION FOR SUCCESSFUL VIRTUAL LEARNING
Documents Related to eLearning and the End of Year Process
Visit our District Office website for more information, answers for frequently asked questions, and instructions
on how to install Office 365 on up to five devices, including ipads, PCs and Macs, and cellphones.
In order to help our students prepare for success, this year, Elmore County is providing Office to every student free of charge. With Office ProPlus, your child will now have access to the latest version of Word, for writing; Excel, for spreadsheets; PowerPoint, for presentations; OneNote, for organization and note taking; OneDrive for Business; for storing, collaborating, sharing, and syncing files, Outlook, for email; and much more!

Install on up to 5 compatible PCs and Macs, plus 5 tablets (including iPad!)
Use with OneDrive for automatic device syncing
Gain valuable skill on the world's most popular productivity software
Office 365 subscription lasts for as long as your child is a student here and the program continues

Your child will need their district username and password to sign in. For more information or frequently asked questions about Office 365 ProPlus visit the Information Technology (IT) Services page here. If you have trouble installing Office, this guide may resolve your issue: http://aka.ms/office365help.

Wetumpka High in the News
2017-2022 ECPS Strategic Plan
Welcome to Wetumpka High School
Every Student Empowered. Every Student Succeeds.